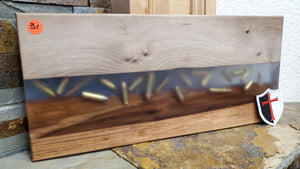 Minuteman Live Ammo Charcuterie Board #31
Regular price $239.00 Sale
Made in the USA!  Locally made, locally sourced, food grade serving boards.  
We use black walnut and big leaf maple for our boards. The trees are locally sourced (Southwest WA) urban salvaged due to disease or dead standing.  Once the logs have been slab cut locally, they are stacked to air dry for 12-24 months.   Next, they are vacuum kiln dried to kill any bacteria or insects that are present in the wood.  We cut them to the desired size (18" x 8.5" x 1.75") and put them into the epoxy forms.  We only use domestically made epoxy resins, proudly made in Florida.  Not only is it one of the best resins available, it's also VOC free.  
During the resin lay up process, we place about 25 live rounds of ammunition made at the Minuteman plant, into the resin at various depths, to add to the character of the board.  
After the resin cures, a variety of domestically sourced pigments are applied.  Boards are trimmed and sanded.  The final step is using another domestically sourced sealant. We choose to use a matte finish so that micro scratches don't disturb the beauty of the product over time.  We make great efforts to keep our money domestically to support our fellow Americans.  Our partners at Northwest Modern Vintage in Vancouver has produced boards of all sizes for our customers, including a 3'x12'x3" black walnut countertop.  
These are exclusively for sale on the www.minutemanammo.com website.