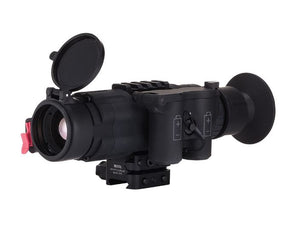 Trijicon REAP-IR 35-2 mini thermal riflescope 2.5-20x
Regular price $7,999.00 Sale
The Trijicon REAP-IR® mini thermal riflescope is a small, light, powerful thermal riflescope that lets you engage targets in any light. It's trusted by the most demanding shooters and hunters who require speed and accuracy for night‑time use. Choose from multiple magnification levels and field of view to fit your specific needs. The REAP-IR optimizes the S.W.A.P. mindset (Size, Weight and Power) with its small packaging combined with lightweight, rugged features. When you need a thermal weapon sight that lets you move from rifle to rifle with ease, look no further than the REAP‑IR.
THUMBSTICK SYSTEM CONTROLLER
Fully ruggedized, weatherproof, multi-directional thumbstick control.
EDGE DETECT MODE
Puts out a fraction of the light of other modes to reduce night blindness from the screen.
STADIAMETRIC RANGING
Determine your distance at a moment's notice.
RUGGEDIZED BATTERY COMPARTMENT*
Top-loading battery compartment is designed for fast and easy battery changes even in the harshest conditions.
12 MICRON TECHNOLOGY
Smaller image sensors allow for reduced size and weight and increased durability.
RETICLE DIGITAL READOUTS
Displays your current reticle position in the lower-left corner of the screen.
PICATINNY RAIL INTERFACE*
Integral picatinny top rail for accessory mounting.
MADE IN THE USA
Built for shooters by shooters right here in America.
640x480 THERMAL SENSOR
Offers clear, crisp imagery through smoke, dust and complete darkness.
INCLUDES
Mini Picatinny Rail Mount
User Manual
Quick Reference Guide
2 CR123 Batteries
Trijicon Logo Sticker
Shuttered Eye Guard
Warranty Card
LENSPEN
Hard Case
SKU: IRMS-35-2
Length x Width x Height
6.28 in x 3.42 in x 2.96 in
(159.51mm x 86.87mm x 75.18mm)
Weight
24.5 oz. (694.56g)
Day Reticle Color
Black / White Adaptive
Night Reticle Color
Black / White Adaptive
Power Source
2 CR123 Batteries
Battery Life
Aprox. 2 hours per battery
Eye Relief
1.06 in. (26.92mm)
Field of View (degrees)
12°
Operating Temperature
-40F to +131F (-40c to 55c)
Sensor Type
Uncooled Vox (Vanadium Oxide)
Sensor Resolution
640x480
Video Output
Analog RS-170 (with Optional Cable)